Linda Lester
Speaker and Co-Founder
 Dancing With A Purpose.
"When you dance, your purpose is not to get to a certain place on the floor. It's to enjoy every step along the way". This quote by the late motivational speaker Wayne Dyer is a good description of native Fresnan, Linda Lester. Linda has spent most of her adult life building into the lives of others via a multitude of avenues. She dances from one project to the next with a diversity of partners and leaves them all with a sense of betterment and encouragement. Best of all her dance partners enjoy every step of the way.  Linda's dance card reveals an interesting history as well as exciting current and future events. In 1990 Linda was giving weekly motivational lectures based on the popular book, A Course In Miracles.  She put her words into action, by developing a group of fifty volunteers who staged a music and dance benefit at the Tower Theater:  The Miracle of Christmas.  New toys and gifts were collected as admission and given to the Boys and Girls Club for distribution to valley children. Linda was deeply moved in 1993 when two teen boys randomly shot and killed a 16-year-old student and her boyfriend.  While in conversation with a friend about the tragedy, Linda asked what she thought they could do and the friend replied, "nothing…we are just hopeless victims".
That conversation inspired Linda to become involved in community efforts promoting acts of kindness as a way to improve the quality of life and counter random acts of violence. A year later as chair of the national Random Acts of Kindness, she organized and oversaw a variety of activities;
• school children wrote and illustrated stories about their own thoughtful acts
• others made Valentines Day cards that were given to nursing home residents
• at-risk teens delivered donated teddy bears and helped in a Community-Clean-Up day
• hundreds of students participated in making a paper chain long enough to surround the entire City Hall. Each link had an act of kindness written on it
From 1994 to 2000, aerial photography of school students standing hand-in-hand to form pictures of hearts, circles and even a dove were used to create a Kindness Calendar.  Proceeds from the project were donated to the Ronald McDonald House.  Thanks to Linda's efforts, the mayor proclaimed a "Kindness Week" and the blood center had a special "Kindness Blood Drive".
During this time Linda also began teaching at Central California Women's Facility about love, kindness, and the ability to change one's life. In 1997 she organized the first California Job Fair for inmates and persuaded best-selling author Marianne Williamson to speak at the daylong seminar. Miss Williamson donated 200 of her best selling book Return To Love to the inmates.
Linda was invited to be one of the guest speakers at The International Coalition For Kindness in Singapore.  On that same trip she also spoke in Tasmania to meet and exchange ideas with the faculty of The Friends School.  An aware teacher in Japan heard about Random Acts of Kindness and contacted Linda to assist in developing a Kindness Program at her school.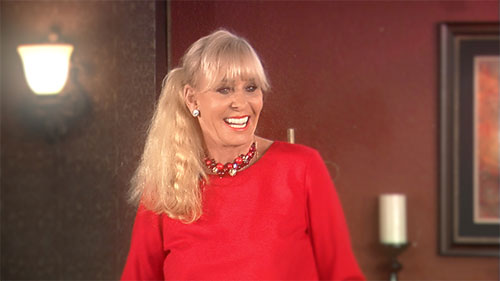 Linda has served as a board member on the Health Care Counsel, the Lively Arts Foundation, California Coalition for Inner Peace, Fresno Madera Medical Association, and Valley Public Radio. She also found time to chair the SAVE Today project for FMMSA, distributing over 50,000 I Can Choose coloring books to second grades students in the Fresno Unified School district.  In 1998 she was chosen the California Medical Associations Alliance Member of The Year, and submitted for selection to the CMA Alliance Hall of Fame.
Beth Domingos, a close friend and Linda co-founded a nonprofit organization called imiracle. www.imiracle.us. It is an organization dedicated to demonstrating and teaching the principles of A Course In Miracles.  Her commitment to expand the idea "there must be a better way" is the catalyst for lectures held weekly at Unitarian Universalist Church. She extols that every encounter one has can provide inspired teaching and tools to lead away from a fear-centered life, to one that is centered in service and love.
While loving every moment of the dance, Linda is still adding to her dance card. She has written a children's book called Little Drip, (the little drop that thought he could be separate from the ocean), which will be out later this year.
Linda's longest dance has been on going for 35 years with her favorite partner, her husband Kevin Lester, a renowned Orthopedic Surgeon who shares her sense of commitment to excellence and adventure in life.  Completing the dance of life are their two boys; Tyler Lester, attorney at law and Morgan Lester, owner of Worldwide Properties.
Linda describes the dance in this way;  "We are all on a spiritual journey. The journey is specific to each of us. It is a journey without distance to a goal that has never changed. Along the way we awaken to the idea 'my thoughts are creating my life'. Choose wisely."
"A MIRACLE IS THE REALIZATION THAT THINGS ARE JUST ILLUSIONS TO BE CORRECTED"